Flutterby Top Instructions
Pin the front bodice and two back pieces together at the shoulder with right sides together (RST) and sew along both shoulders. Repeat for lining.

On the lining, fuse strips of interfacing along the straight back edges where the buttons and placket will go. The interfacing will help stabilize the fabric, especially if you're using a finer fabric like the Art Gallery voile.

Fold and press your small rectangles in half with wrong sides together to make two long thin strips. Run two rows of basting (gathering) stitches along the raw edges and gather the strip
Lay the main bodice right side up, and pin the ruffle across the armscye (armhole) so the raw edges are together and the sides of the ruffle fade into the armscye. They'll be completely enclosed when we add the lining layer. Baste the ruffles to the bodice.
Place the main and lining RST and sew along the neckline and armscye (see photo below). Notch the curves, clip the excess from your flutter sleeve, and turn it right side out by pulling the back through the shoulder to the front of the bodice on both sides. Use your fingers to flatten the seams out then press well.
Separate your main bodice and lining on both the front and back bodice pieces and with RST align the pieces so the main front and main back are touching and the lining front and lining back are touching. Sew along the edge from the lining to the main in one line of stitching. Repeat for other side.

Flip your bodice right side out, and topstitch around the arm and neck edges if desired. Pin the bodice together in the back by overlapping the placket by 3/4″.

Sew the short edges of your big rectangle together with RST, and press your seam. You should have a tube now. Then run a few lines of basting/gathering stitches around the top of your tube and gather your skirt to the same width as your bodice.

Pin the raw edges of your bodice and skirt together with RST and with the button placket lined up with the seam of your skirt. 

Sew the skirt and bodice together, and finish your seams. Press the seam allowance up and topstitch around the bodice. 

Add 3 buttonholes and 3 buttons to the plackets.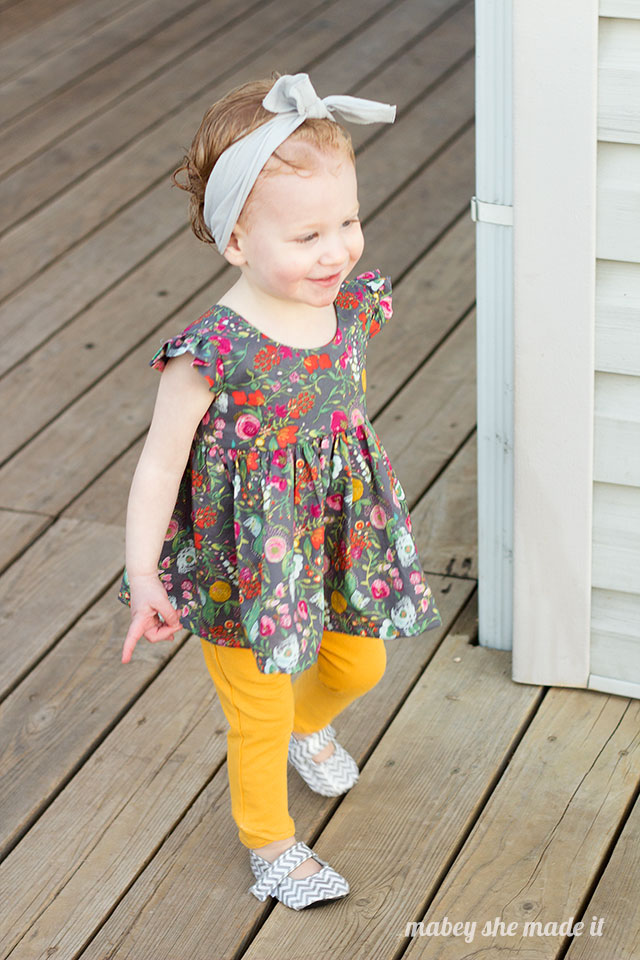 If you wanted to make a Flutterby Dress instead, just increase the length of your rectangle to the length needed for your little one.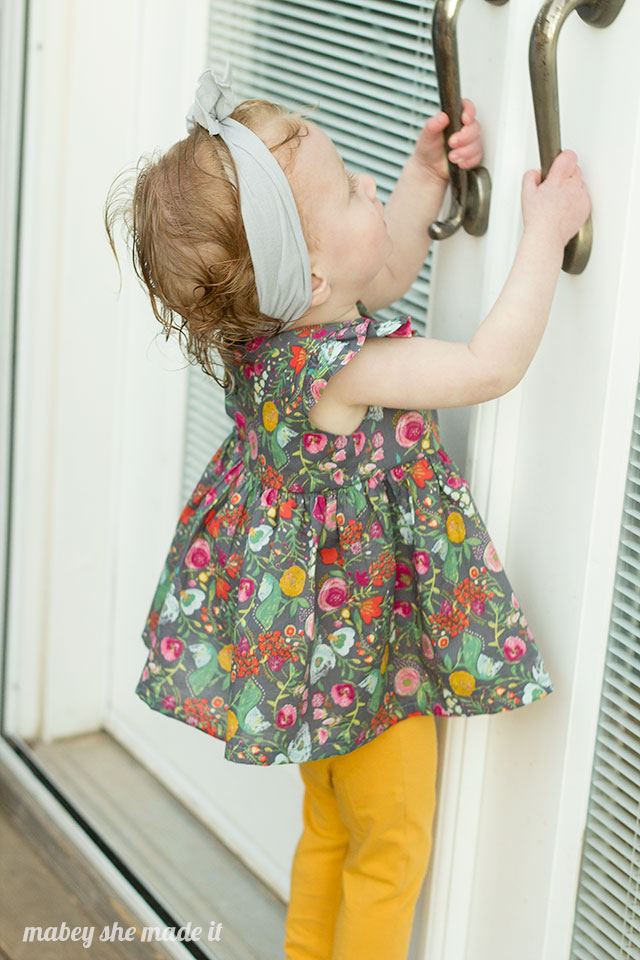 So what are you waiting for? Download your FREE Flutterby Top Pattern Here!