A little while ago I was cleaning out my kitchen and I came upon a set of springform pans. I remember thinking I "needed" them when I bought them, but I rarely use them and the set included three pans. I don't even really like cheesecake anymore.
I clearly don't need 3 springform pans. So I gathered them up and set them in the "donate" pile. But as I was getting ready to take my donations to a thrift store, an idea popped into my mind.
I've been really loving the sailor's mirrors I've been seeing around lately. I love the simplicity and elegance of the round mirror and the way it hangs from a knob or peg. I ran across this beautiful example (click to see the source), but they want $468 for it. Right.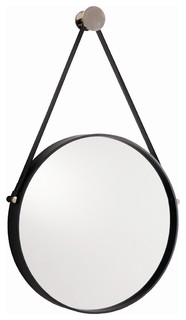 Granted this is a bit bigger than the one we're making today, but I spent $1.50 to make it, so I'm not complaining about the size. Ours is also upcycled, so it's simple and only takes about 15 minutes to make. 
Sailor's Mirror Supplies
Instructions
Take the bottom out of your springform pan, and set aside.
Drill two holes in either side of the pan.
Insert your mirror into your pan–mine fit right into the groove where the pan bottom goes, but if yours is too small, adhere it to the pan bottom, and insert back into the pan.
Insert the c-hooks into the drilled hole. If you think you need a little more hold, you can put E-6000 on the threads and let it dry.
Cut a length of rope, and thread it through the hooks. Tie the ends, and hang up.
So for $1.50 out of pocket (for the thrifted mirror), I turned an unused and almost donated item into a fun and unique sailor's mirror that I love. And it only took a few minutes to put together!
 What do you think? Would you make a Sailor's Mirror for your home?