When I was a kid I loved the idea of secret notes, disappearing ink, and sharing them with friends. There was just something so cool about being able to have a message appear out of nowhere! I also loved watercoloring and seeing how the colors blended together. My girls have been doing a lot of watercoloring lately.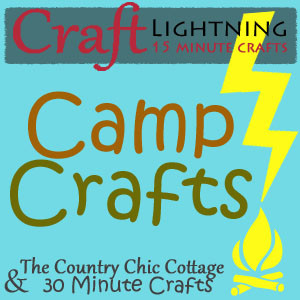 With a new baby in the house and 2 other kids to keep happy, I have been employing a lot of tactics to keep them occupied and out of trouble. And, like in the movie About a Boy

my day feels like it's divided into units of time–although my units are more like 15 minutes instead of 30. So I was thrilled that the rules for Craft Lightning Camp are that the craft can't take more than 15 minutes (excluding drying time). Perfect!
So why not combine those two cool ideas and use the watercolor resist technique to send and receive top secret watercolor messages!
You'll need:
Let's get started!
Take the white crayon and write a message or draw a picture. Saige is "writing" a letter to her friend Sophi here. (She was pretty concerned that it wasn't working at this point.)
Now you can trade papers with your friend or create a masterpiece to give them later.
Take your brush and watercolors, and simply paint over the area where your message or picture is. As you paint, the color will resist anywhere there's crayon and your message will appear! 
Make your painting as elaborate or simple as you want. It was fun to be able to read a message to my 2-year-old after she got to paint it. But the most fun was getting to see their reaction as their "message" started appearing. Saige was open mouthed in amazement.
And it was so quick and simple that they wanted to keep writing more messages past their usual 15-minute unit of time.