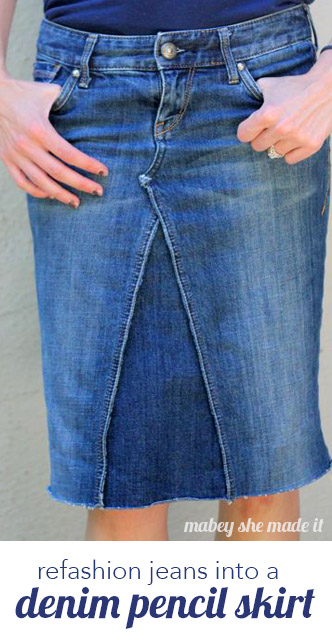 Everyone has a denim skirt it seems, so when I finally had had it with a particular pair of jeans, I knew I needed to make myself one. They looked good on me, but the rise was just too low for me to be comfortable in. You know–the bend over and show the world more than they want to see problem…
I knew I wanted to do something with them, but I couldn't turn them into shorts or capris because that wouldn't solve the rise problem. So last summer I cut into them and made them into a denim skirt! I pretty much followed my Panelist Skirt Tutorial, but with a couple of tweaks. Here's what I did!
Instead of using the seam ripper to open the inside seam, I cut close to the seam so it would become part of the skirt front. Cut as close as you can without cutting into the seam.
Follow the tutorial until you've finished the back of your skirt. It should look like this:
For the front, lay out your skirt so it lays flat. Pin the crotch piece flat, then position a pant leg piece to fill in the gap. Pin it in place.
Sew the crotch piece and extra panel to your skirt, following the existing seam. If your sewing machine doesn't want to go through all that denim, just sew as close as you can to the seam.
Decide whether you want the bottom to fray. I chose not to hem because I had all the existing seams on the rest of the skirt, and I wouldn't be able to match my hem stitching with the rest of the skirt. I did, however, zigzag the bottom so it wouldn't get too frayed.
Once I washed it a couple of times, there was some minimal fraying along the front where I cut the pant legs open, but a little trim solved the problem since I'd cut so close to the existing seam. Now it doesn't fray at all, and I have the original seams that make it look a little more professional.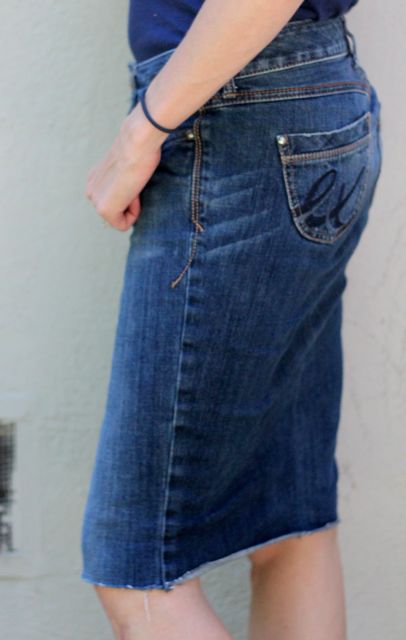 It's slim, comfortable, and best of all, I didn't have to get rid of the jeans I loved so much. I pretty much lived in this skirt last summer, and I might again once Miss Mabey comes…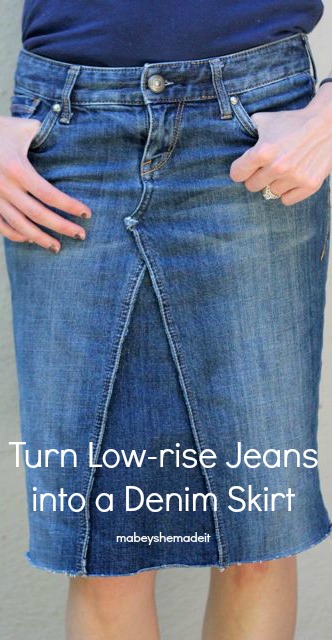 Ta Da! A pants to skirt refashion that solves the rise issue!