Pinecone Garland
August 14, 2014 in Crafts, Fall, Home Decor by Lisa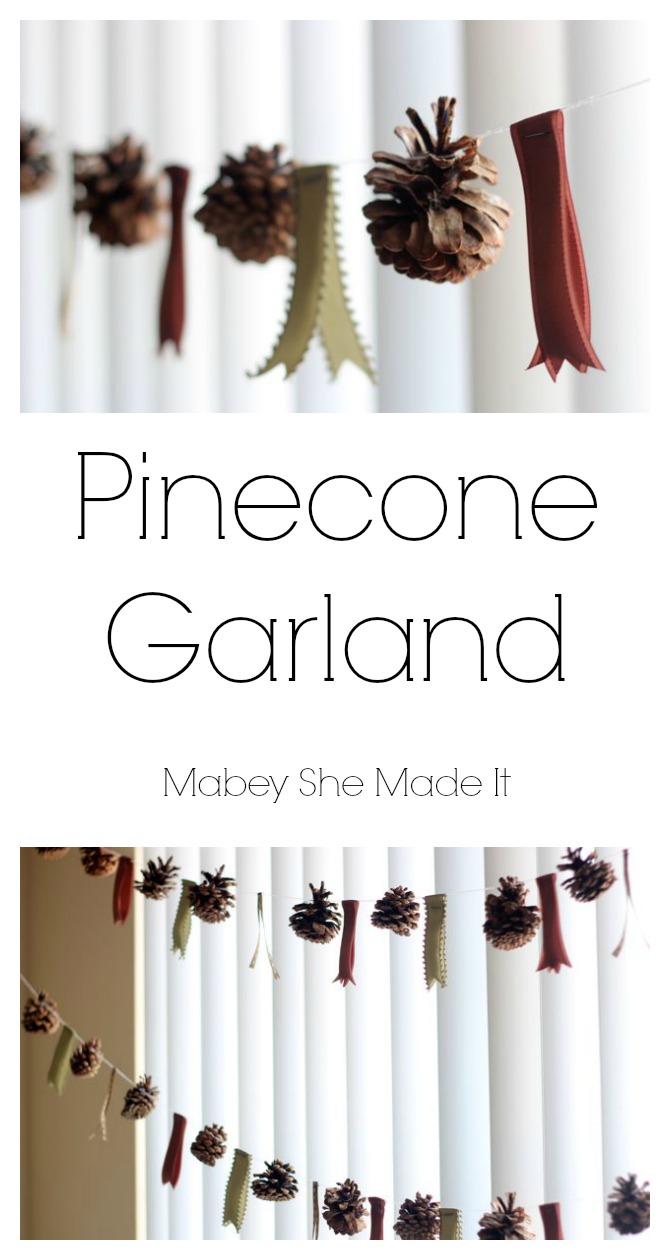 What's more autumny than a pinecone garland? Nothing. I had so much fun creating autumn decorations for my mantle this fall in a style that's a little different for me. I LOVE autumn and it seems like every year I make something new to decorate with. And it feels like my decorating style is evolving (does that happen to you as well?).  For the past few years, I've been using more natural elements in my decorating.
I wanted to show you a couple of autumn decorations I put up last year that didn't cost me anything because the girls and I went outside and found things from nature. We combined them with things I had inside for a vignette that I really enjoyed (enough to show you a year later).
We headed outside to gather pinecones (Saige loved this activity), leaves, and branches. I tried to gather some of different sizes because I knew I wanted to use them in a couple of different ways.
To make the pinecone garland, starry by taking string and tying the bigger pinecones on by making a loop and slipping the loop around the top of the pinecone then tightening. Then I cut ribbon (about 8″ each and one for in between each pinecone), and stapled ribbon around the string. I used two different ribbons for a little interest and color. After making two rows, I hung them up.
Tip: Pinecones are deceptively heavy, so look for studs and make sure they're really secure, especially if you're hanging them across an open area. You don't want them falling and possibly making a broken mess…
Then I added small pinecones, ribbon and a tag to the only vase I had with me at that point (we were temporarily in Colorado then). Leaves and branches went into our good pitcher. And some fallish napkins in a little basket I had. Although the pictures don't do it justice, I loved how natural the pinecone garland and autumn decorations felt.
And that's it. Simple autumn decorations, but it was easy to do and free.