Jackie Blouse Pattern Testing
April 5, 2014 in sewing by Lisa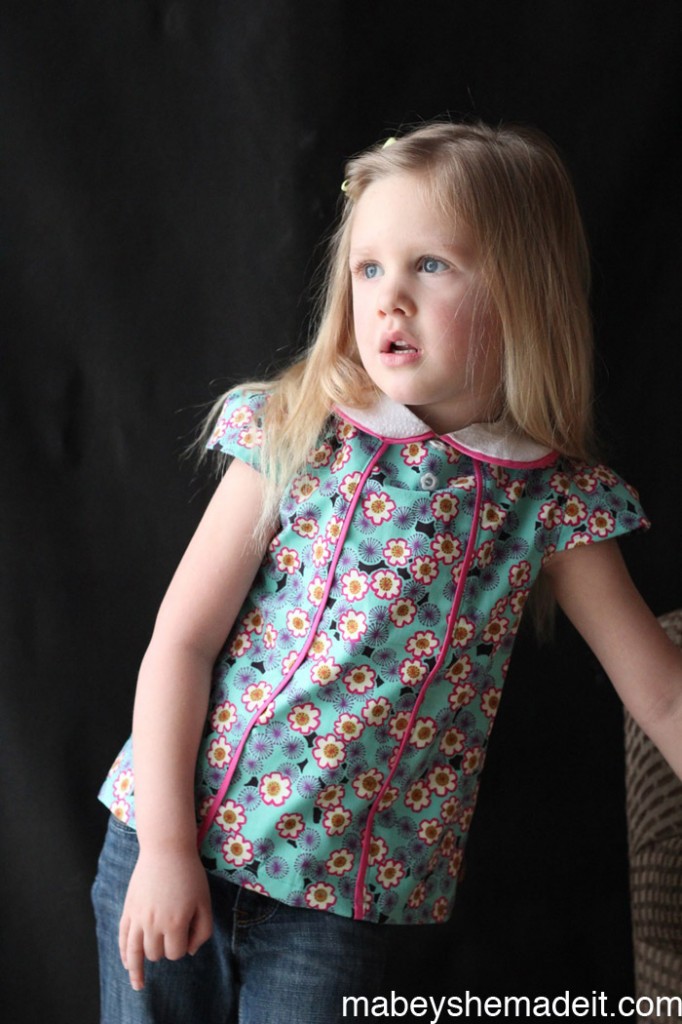 Okay, this Jackie Blouse is seriously one of the cutest tops I've ever made. It's the Jackie by Peek-A-Boo Patterns and I'm loving it. Not only do you get the darling piping details, but a fabulous piped Peter Pan Collar to boot. And even though you can't see this part, it's fully lined so there's no itching, no visible seams, and you get to feel like a sewing genius when you're finished. The pattern has recently been overhauled, so it's up to Amy's awesome standards and if you look at the other images on the pattern page, you'll see my version included! (That also makes you feel like a rock star, by the way.)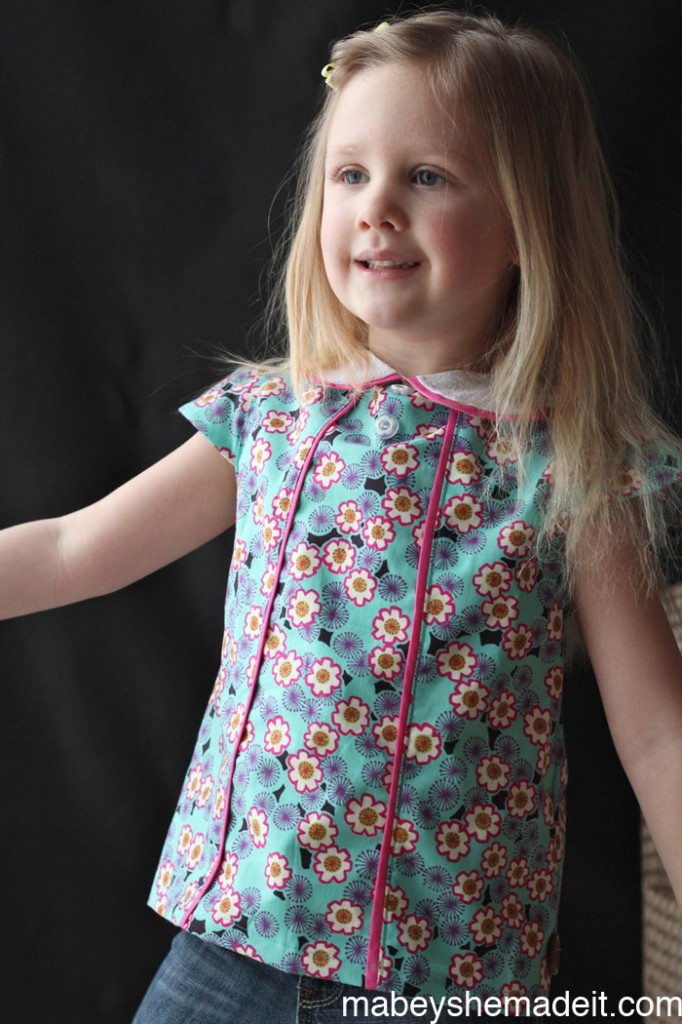 I can't remember where I picked this fabric up, but it's been around my sewing room for quite a while now–just waiting for the right project. I was playing with a couple of fabric options, and there was just something striking about the pattern of the Jackie Blouse/Dress and the fabric. Combined with pink piping, and it just begged to be sewn up. It's a nice heavy cotton, and I wanted something that wouldn't turn into a crumpled heap of fabric when I did the laundry (I don't iron…) so I'm hoping the weight helps with that.
This was my first time sewing a top with a lining, so I was a bit nervous (and tempted to skip that whole part), but since I was testing the pattern I swallowed my sewing-ability doubts and jumped in. And I'm so glad I just did it!. This top has a zipper back, so getting the zipper installed with the lining was the part I was most nervous about. But really it wasn't anything to fret about. I did have to unpick one part when putting the lining in around the zipper (and I just realized that I still did it differently than I was supposed to), but it all went in without too much trouble. Talk about a feeling of accomplishment!
I love all the little details! The piping is above cute, two sweet little buttons on the front just make it darling, and the half sleeve makes it easy to get in and out of.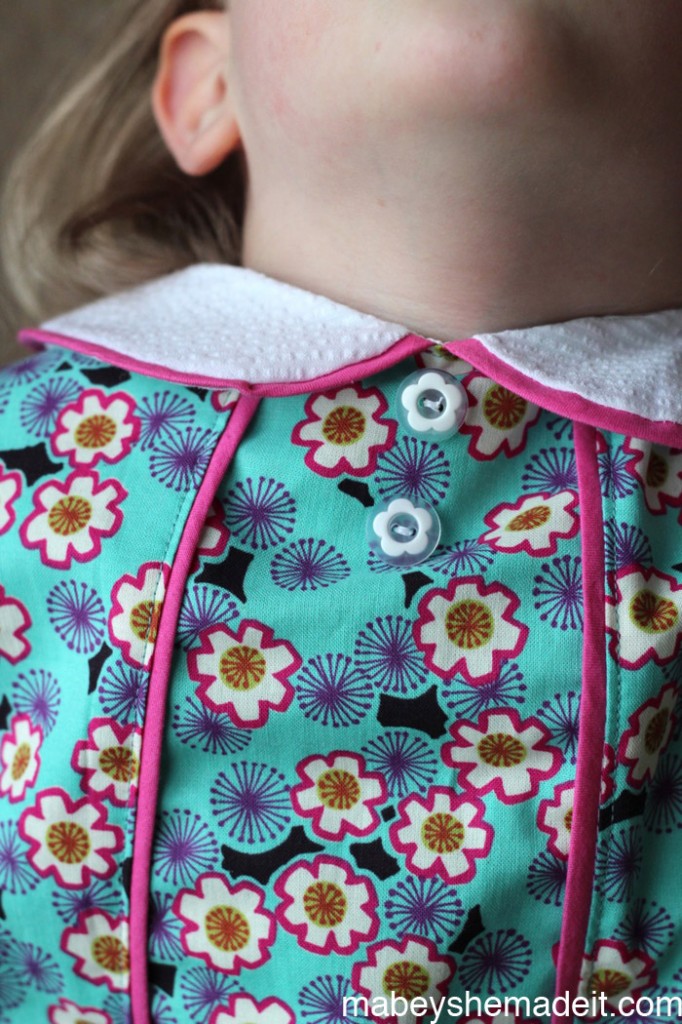 I made a size 5, which was bigger than her measurements so the blouse is a bit big. But that just means she'll get to wear it for longer, right? Overall, we're both just thrilled about how it turned out!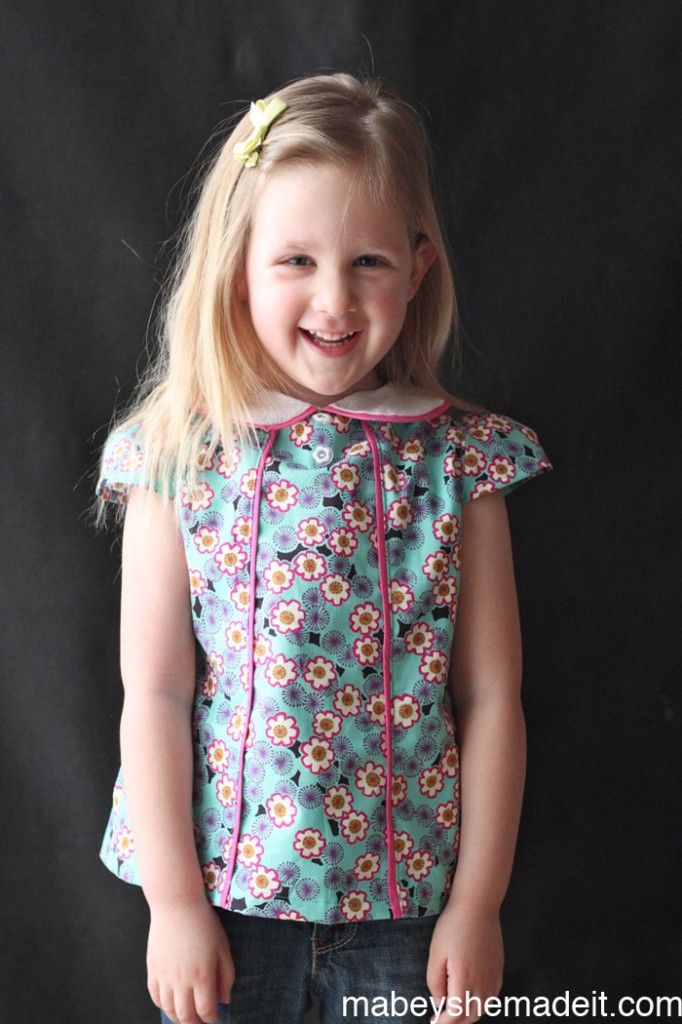 You really should go check out the Jackie by Peek-A-Boo Patterns. And all of Amy's other patterns–the Evelyn Dress that I made here is hers as well and they're seriously so fun to sew up!
UPDATE: Also check out the Savannah dress and Baby Gowns that I've loved!
*This post includes affiliate links.