When a trusted name in hair irons says they want to send you a clothing iron to review, you say yes. Since CHI has made such a good name for themselves in the hair world, I was eager to see if they could do the same for clothing irons.
Since you need a good iron for every sewing project (and I was curious whether they could really go From Hair to Wear) I've been testing it out. Over the past couple of weeks I've steamed my curtains, pressed my hardest-to-iron clothes and my more delicate ones, and of course, used it in my sewing projects. All have been a success.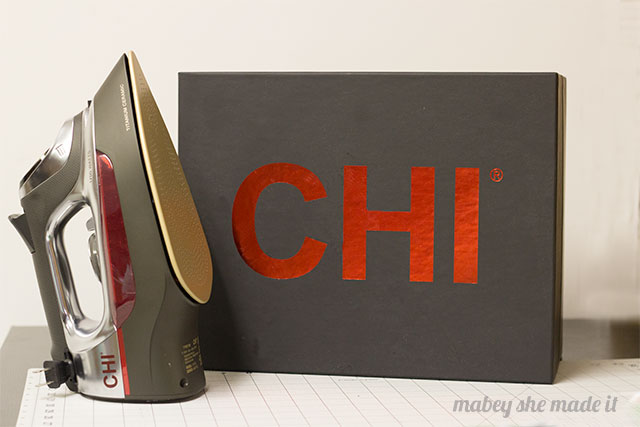 And I wanted to show how it did on both a tricky seam and with thicker fabric combined because that's where I saw the magic. Here's the finished project–an Extraordinary Girl tee (which is probably my signature tee seen here and paired with my Birkin Flares).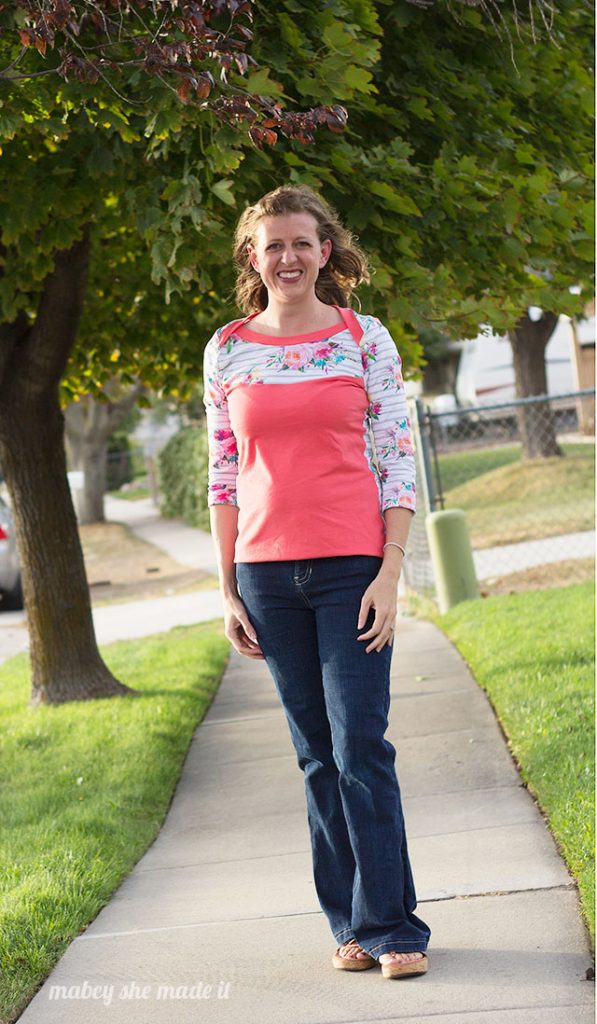 The construction of the Extraordinary girl includes a tight curve with binding sewn on it to create the envelope-style neckline for both the back and front. Once you put the binding on, its a bit tricky to get everything laying flat–especially if you're using a thicker French terry for the binding like I was. Here it is before pressing: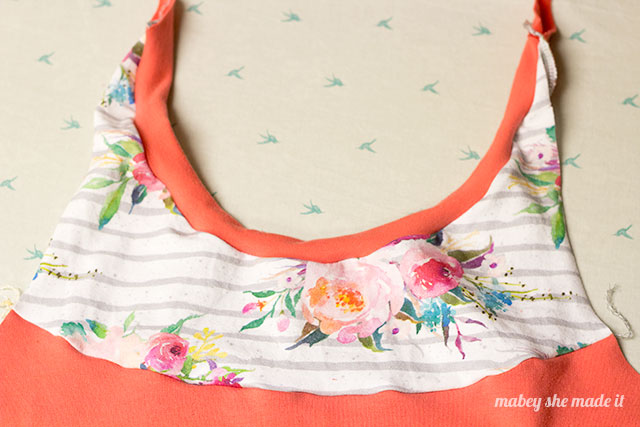 But the CHI totally pressed and steamed it flat. I was impressed to say the least.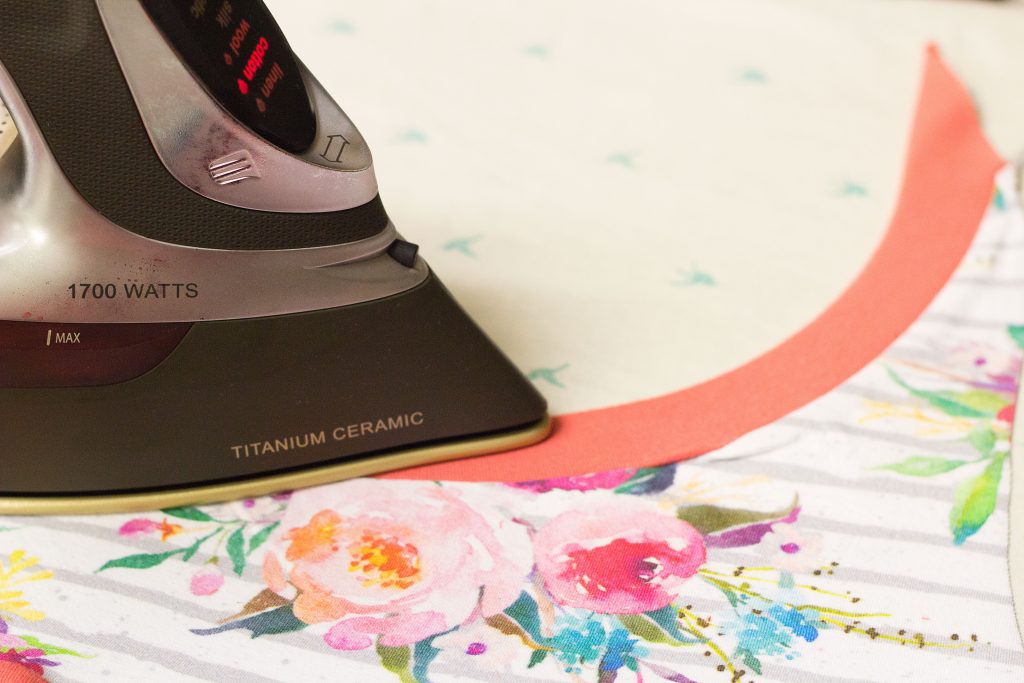 Since the whole front and back curves were so flat it made overlapping the shoulders and adding the sleeves a breeze.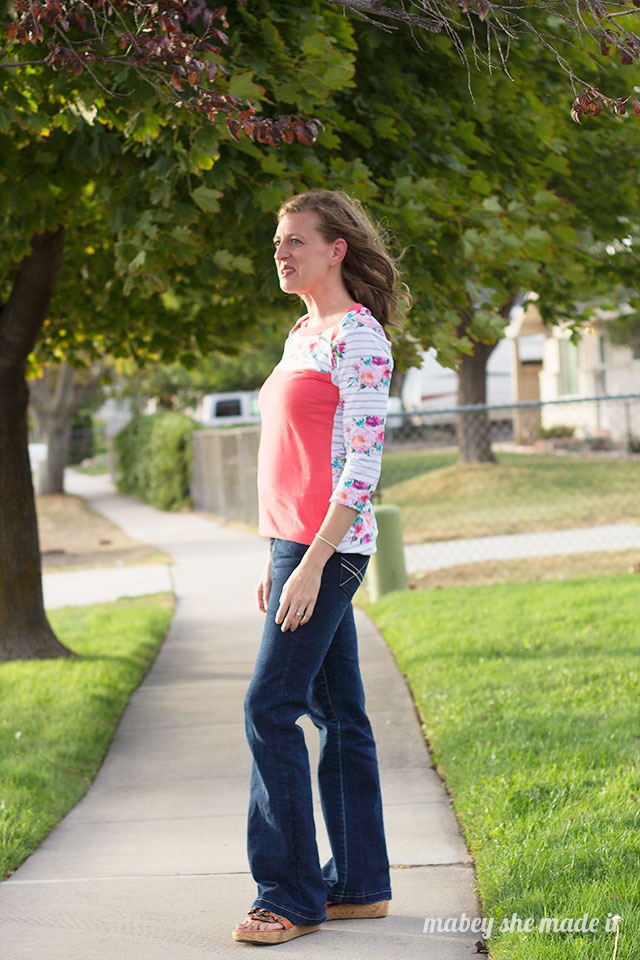 Read on to see some specifications, my pros and cons list, and what I still don't know about the CHI clothing iron.
Specifications
CHI Electronic Retractable Clothing Iron
Retails for $99.99 and is available now at Bed Bath and Beyond.
Features a titanium-infused ceramic soleplate that's scratch resistant and has non-stick and non-static finishes,
Heats quickly and has a retractable cord
Comprised of 400 steam holes
CHI Clothing Iron Pros
Lots of steam. I mean lots. See this photo? I wasn't even pushing the extra steam burst button. And lots of steam means those seams are FLAT (see below). What else could I want in an iron, right?
It's heavy. I don't know if everyone finds this a bonus, but I look for nice heavy irons that do the work for me.
Retractable cord. This isn't a deal breaker for me in an iron, but it is nice to have.
Auto off. This is a must-have for me, especially since I've got little ones running around. I wasn't sure it had auto-off since I don't have an owner's manual, but I left it on while sewing and soon enough it beeped and turned off which was a pleasant surprise.
The water fill opening is closed while ironing. Perhaps my pressing and ironing is a bit vigorous, but I like that even if it tips on its side or upside down the water opening is closed off during use.
CHI Clothing Iron Cons
Selecting the fabric type wasn't immediately clear to me. The indicator is up on top and lights up, but the selector is actually controlled by the dial under the handle. No big deal once I realized it, but it did have me confused for a moment.
Retractable cord. Um, yes, I meant to put this in both the pros and cons. It's fairly easy to start the retracting cord, but if you don't kind of control how the cord goes in, it won't finish retracting. I had to pull it out and kind of visualize how the cord was wrapping inside and then it fully retracted.
The Jury's Out…
The self-cleaning option. Since I've only been using it for a short amount of time I don't know how well the self-cleaning button works.
Durability. Same thing. Until I use and abuse this CHI iron like I normally do I won't know how durable it is.
Overall, I really like this CHI clothing iron, and will continue to reach for it for tricky or tough spots. It's an iron I'd recommend for sure.
The iron was provided to me, but the findings and opinions are mine.