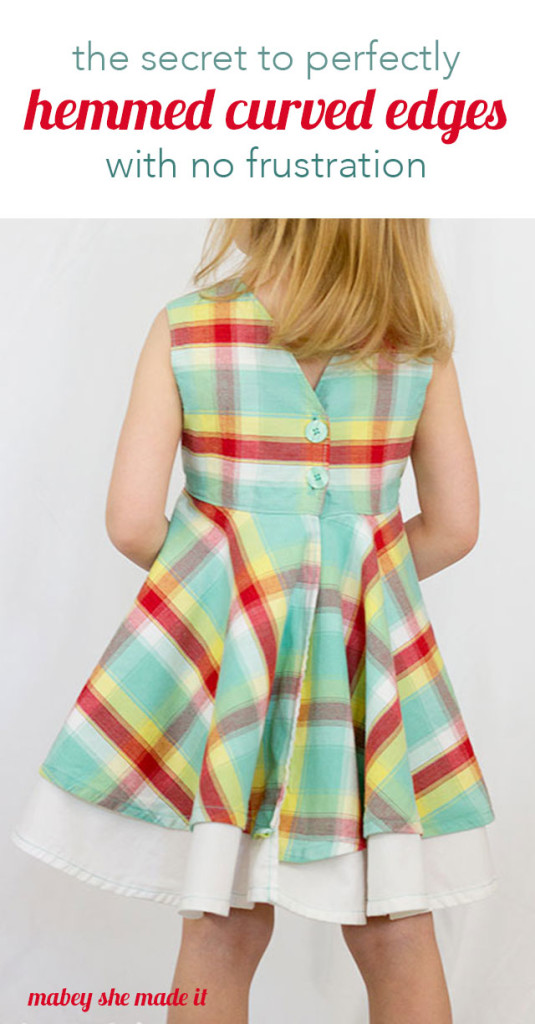 Have you ever been frustrated by attempts at hemming curved edges? I know I have. You work so hard to get the whole garment looking good then you attempt to hem the curved edge and it just doesn't want to cooperate. And if you want a nice wide hem–forget it. You end up with bunching and it's hard to get it to look good. UNLESS….you use this secret for hemming curved edges and then you'll get a nice smooth hem (and it can be a wide one) without all the frustration!
Are you ready to learn the secret? It's creating a facing! Keep reading, and I'll show you exactly how to do it.
Creating a Facing to Hem Curved Edges (Hemming Curved Edges)
Look in your pattern to see how much of a seam allowance is allowed. Let's say it allows for a 1″ hem. So you'd cut your pattern 1″ shorter than the pattern calls for. Then sew up your dress until you get to the hemming part.
Now take your pattern and cut a facing using the hemline of the pattern to the height you want it. Finish one edge with either a zigzag stitch of a serger.
Sew your facing pieces together at the side seams, then pin the facing to the garment (right sides and raw edges together). Now stitch around the whole hemline. 
Flip the facing to the inside of the garment and press so you have a nice clean hemline. Then either machine or hand stitch the facing in place and you're done!
Because the facing is the exact same shape as the garment, you won't have any bunching and everything should lay perfectly flat, eliminating the headache and frustration of hemming a curved edge. It's totally worth the added step–especially when you have a really big curved edge like on this maxi skirt. I started to hem it without the facing, and was so mad I almost gave up until I remembered to use this secret.
If you liked this tutorial, you might also like:
The Secret to Gorgeous Gathers || Lengthening a Dress
And check out the dress pattern review here: